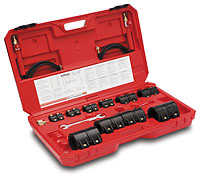 £234.15
+ Delivery
+ VAT

The economic and environmentally friendly option for the plumbing and heating engineer when servicing, repairing or extending pipe systems, without the need for time consuming draining down. Good for customer relations - no prolonged discussion about when to do the job, and no inconvenience is caused to third parties not involved by having to have their water turned off.

Ideal when replacing faulty parts, e.g. thermostatic regulator valves etc.

Eliminates the risk of air-locks in heating systems.

Only use CO2 cylinders with vertical feed pipes (liquid withdrawal).
ROFROST CO2
Simple, quick, safe freezing using carbon dioxide - no CFC's

Copper Tubes 10 - 60 mm OD
Copper Tubes 1/2" - 2 1/8" OD

Steel Pipes 1/8" - 2" OD


Features:

Freezer heads made from a highly, cold resistant special plastic. Integral tightening screws. Cannot be misplaced. Can be screwed on by hand and tightened up with an SW 4 integral hexagon screw driver
Constant diameter clamping prevents damage or breakage of freezer heads
Freezer heads specially designed for working close to a wall or in confined spaces
Clear, permanent marking of relevant dimension on each freezer head
Carbon dioxide costs greatly reduced by up to 40 %
Plastic sleeved handles - safer working
Flexible, kink-proof high pressure hoses - extra long to increase working range. Extension kit also available.
Direct connection of hose to CO2 cylinder T-piece
Swivelling T-piece bottle connections prevents hoses getting twisted
Single or double sided freezing
High CO2 freezing efficiency (-110° F) results in very short freezing times
Non-toxic, not flammable, easy to source CO2 gas
No problems soldering or welding
Use with CO2 cylinder equipped with syphon tube